American rapper Swae Lee slams division between South Africans and Nigerians over Amapiano
Swae Lee sets the record straight after being attacked for thinking that Amapiano is a Nigerian sound.
The American rapper quaked social media platforms with a tweet about jumping on Yano.
Wait till y'all hear Swae Lee on Amapiano 🇳🇬

— Swae Lee Lee Swae (@SwaeLee) July 11, 2023
The rapper returned to Twitter to make peace with Nigerians and South Africans after observing that his tweet caused a debate.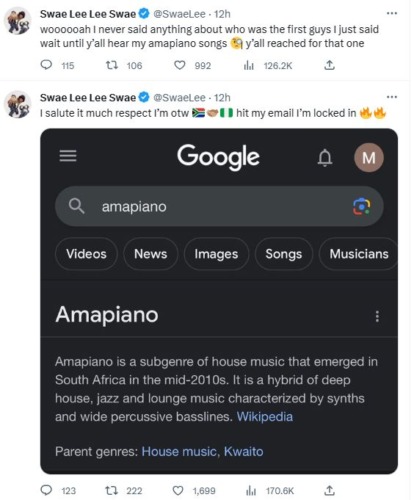 Lee further explained why he attached Nigerian flag to his tweet.
"I didn't say it belonged to anyone I'm Nigerian that's why I put it, but big ups to SA for creating it fasho y'all added a whole mother context to my tweet insane fr I never said anyone created it in that tweet just said I got amapiano vibes otw and they sound Raw y'all got that one," he wrote.
For the ones outraged about the flag I put it because I'm part Nigerian I didn't say anything about the creation of the genre y'all tweaking

— Swae Lee Lee Swae (@SwaeLee) July 12, 2023
In a video shared on Twitter, Swae Lee urged the two Africa countries to make peace and stop promoting division over the Amapiano genre.
He also revealed that he was introduced to the sound by Nigeria.
I never discredited nobody sorry y'all read it that way I never said anything about it's origins in that tweet I was just letting my fans know I'm tapped in and been cooking some amapiano style songs salute to the history of amapiano and the first creators of it I'm not taking…

— Swae Lee Lee Swae (@SwaeLee) July 12, 2023