AKA hints at breaking up with Nadia Nakai (See deleted post)
The rappers traveled to Ghana a couple of days ago and things looked really splendid between them, despite keeping things a bit low.
However, it's come to the surprise of netizens that things might have gone wrong as Kiernan says he won't allow another woman to degrade him again.
"I will never let another woman degrade me ever again," he wrote and deleted the post minutes later.
rote and deleted the post minutes later.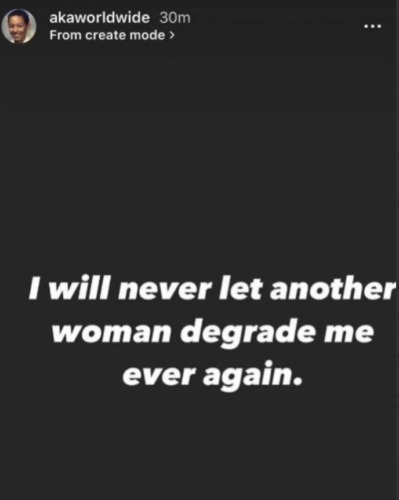 Some netizens also confirmed that he's unfollowed Nadia.
The two are yet to come out plain about their situation, but it's now become public that they started dating in 2021, after AKA lost his fiancée, Anele Nelli Tembe and Nadia broke up with his American-Ghanaian boyfriend, Vic Mensa.
Last week Monday made it a year anniversary since Anele's passing; taking to social media Kiernan paid tribute to his late lover.
"I'll remember this day for the rest of my life. 11/04/2021. Everyday I pray for the healing of your family and my family. I hope one day we can all come together and pay our respects to you and your memory at the same place and at the same time."